Urgent Care Services
Urgent care has become a convenient, and efficient, option for pet families that do not need the full services of a busy ER but who cannot get an urgent appointment with their family veterinarian. Tufts VETS Urgent Care will make you feel fully supported with a team of specialists on site, backed by the trusted Tufts name.
Learn More >>
Tufts Veterinary Emergency Treatment & Specialties Forms
All clients are asked to preregister online prior to their visit. Please click here to view and complete the appropriate forms.
For the most efficient service we ask that you complete the appropriate forms online prior to your visit with your pet.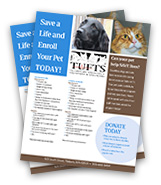 Can Your Pet Help SAVE Lives? We Need Blood Donors!
Countless dogs and cats have received life-saving transfusions at Tufts VETS. Your pet could contribute to our blood donor program and help save lives. Save a Life and Enroll Your Pet TODAY!

Learn More >>
Update on Hospital Operations:
For emergencies see information here
Most of our specialty services have opened to two clients permitted in per pet per visit
To request a medication refill call 48 hours in advance
For mailed medication refill, call ahead at least 5 business days in advance
Prescription foods must be ordered 5 days in advance
To protect our staff and patrons, anyone experiencing a sore throat, cough, fever, or chills, or who has tested positive for COVID-19 in the past 2 weeks will not be permitted to enter Tufts VETS
Emergency & Critical Care
Get urgent care, emergency surgery, peritoneal dialysis, transfusion medicine and more 24 hours/day, 7 days/week...
Referring Veterinarians
We are an extension of your primary care veterinarian and we recognize the important role we play in helping...
Our Services
Offering a wide array of services, including: cardiology, diagnostic imaging, internal medicine, ophthalmology and more...