Tufts Veterinary Emergency Treatment & Specialties Forms
All clients are asked to preregister online prior to their visit. Please click here to view and complete the appropriate forms.
For the most efficient service we ask that you complete the appropriate forms online prior to your visit with your pet.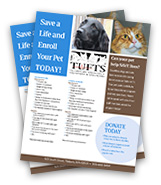 Can Your Pet Help SAVE Lives? We Need Blood Donors!
Countless dogs and cats have received life-saving transfusions at Tufts VETS. Your pet could contribute to our blood donor program and help save lives. Save a Life and Enroll Your Pet TODAY!

Learn More >>
Update on Hospital Operations:
For emergencies, please call ahead to discuss your pet's condition so we may advise you about the urgency of the problem. (508) 668-5454 THIS IS BECAUSE:

Due to periodic high numbers of critical patients in our hospital, we may need to advise you to seek care for your less critical pet at your primary care vet, or at other nearby hospitals or urgent care clinics. We will provide you with a list of such facilities. There is a limit to the number of very ill patients our doctors and nurses can care for. The entire region is faced with more urgent and emergency cases than they can handle with current veterinarian and nurse staffing and space.

We are continuing with curbside care for emergency service patients.
Many of our specialty services have opened to two clients per pet per visit. See above. We look forward to seeing your masked faces inside!
Medication refills may be mailed to you or picked up outside. To request a mailed refill, please call ahead at least 5 business days in advance, or 48 hours in advance of onsite pickup.
Prescription foods must be ordered 5 days in advance. Pick-up will take place outside the hospital between 8am and 6pm.
Payment by credit card only. We are not able to take cash payments at this time.
To protect our staff, anyone experiencing a cough, fever, or chills, or who has tested positive for COVID-19 in the past 2 weeks will not be permitted to enter Tufts VETS.
Emergency & Critical Care
Get urgent care, emergency surgery, peritoneal dialysis, transfusion medicine and more 24 hours/day, 7 days/week...
Referring Veterinarians
We are an extension of your primary care veterinarian and we recognize the important role we play in helping...
Outpatient Services
Offering a wide array of services, including: cardiology, diagnostic imaging, internal medicine, ophthalmology and more...