The Dentistry Service
Utilizing the latest armamentarium, the dentistry service at Tufts VETS is committed to provide the most comprehensive and best possible oral and dental care for your pets. We provide consultations for our clients and phone consultations for our referring veterinarian. In addition, we strive for open communications to our referring veterinarians and work closely with them to provide the highest quality oral care for our patients.
During the dentistry appointment, your pet will receive a thorough awake oral exam and physical examination. In addition, we will review your pet's medical history, previous medical records, and current treatment. Based on our evaluations, further diagnostic tests that may include anesthetized oral exam, dental radiographs, and other advanced diagnostic imaging such as CT scan, may be recommended. We will also discuss our treatment planning and options with you during this consultation. The dental procedure (under general anesthesia) will be arranged and done on a separate procedure day.
Our Services
Periodontology: Dental extractions, root planing, periodontal surgery
Endodontics: Root canal therapy, vital pulpotomy
Orthodontics: Malocclusions consultations, acrylic inclined plane for the management of base narrow canines, orthodontic buttons and brackets
Prosthodontics: Crown preparation and prosthetic crown placement
Restorative: Management of caries/cavities and enamel hypoplasia
Oral Medicine: Management of feline gingivostomatitis and other oral conditions
Oral Surgery: Jaw fracture management, oral tumor biopsy & surgery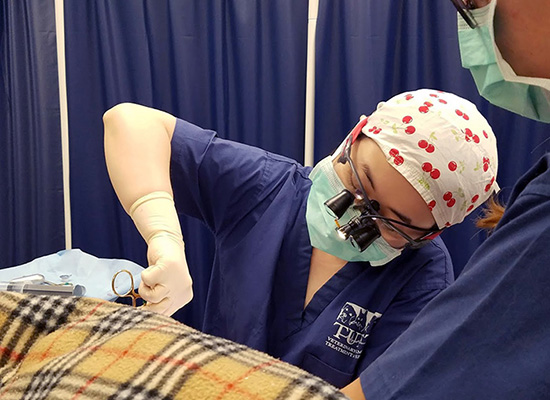 Referring Veterinarians
Tufts VETS offers many specialty services as an extension of the primary care veterinarian, and we recognize the important role we play in helping you provide optimum medical care for your clients and patients.
Emergency & Critical Care
Tufts VETS offers emergency and critical care services and surgeries around the clock for pets requiring immediate surgical intervention.