Surgical Services
Tufts VETS offers a wide range of surgical procedures for small animal patients. We provide 24-hour care and monitoring in a state-of-the-art facility. Our surgery service is supported by both the anesthesia and critical care services to ensure an outstanding level of treatment.
We provide pre-surgical consultations with clients as well as phone consultations with referring veterinarians, and are welcome and encourage open communication with referring veterinarians to ensure the highest level of care for patients and clients.
The medical team at Tufts VETS are committed to providing the best possible care for our patients and their families before, during and after surgery. We provide full work-ups of surgical diseases and perform radiography, contrast radiography, fluoroscopy, ultrasound and CT scans.
Pain Management & Anesthetic Monitoring
Pain management is key to successful treatment of surgical and chronic orthopedic disease. We work closely with our anesthesiologist to provide tailored pain management for each patient. All patients undergoing surgery at Tufts VETS are provided intensive anesthetic monitoring by a certified technician with state-of-the-art equipment. Patients with high-anesthetic risk are directly managed by a board certified anesthesiologist or critical care veterinarian.
Surgical Procedures
We perform a wide range of surgical procedures including:
Soft Tissue Surgery
Abdominal
Thoracic
Orthopedic Surgery
Stabilization of cruciate ligament rupture
Lateral suture
Tibial plateau leveling osteotomy (TPLO)
Tibial tuberosity transposition (TTA)
Fracture repair
Juvenile public symphysiodesis (JPS)
Femoral head and neck ostectomy (FHO)
Neurologic Surgery
Intervertebral disc rupture
Emergency Surgery
We offer emergency surgery 24 hours a day for pets requiring immediate surgical intervention.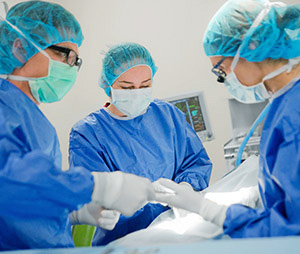 Referring Veterinarians
Tufts VETS offers many specialty services as an extension of the primary care veterinarian, and we recognize the important role we play in helping you provide optimum medical care for your clients and patients.
Emergency & Critical Care
Tufts VETS offers emergency and critical care services and surgeries around the clock for pets requiring immediate surgical intervention.