Urgent Care Services at Tufts VETS
Urgent care has become a convenient, and efficient, option for pet families that do not need the full services of a busy ER but who cannot get an urgent appointment with their family veterinarian. Tufts VETS Urgent Care will make you feel fully supported with a team of specialists on site, backed by the trusted Tufts name. If your pet is assessed by our team and they determine the need for hospitalization, or surgery, our Urgent Care team will facilitate transfer for you. The Service is housed within the full-service hospital and thus you can feel comfortable that diagnostics and treatments are available, at all times.
Hours of Availability
Sunday-Friday
Hours vary, please call for availability.
Walk-ins are welcome but we encourage you to schedule an appointment with our Urgent Care Liaison, Becky Ray. Phone: (508) 668-5454, extension 4
Conditions That We Accept Through Urgent Care
Ears (itching, aural hematoma)
Eyes (swelling, discharge, squinting, redness)
Skin (new lumps/bumps, itching, hot spot)
Small bite wounds, lacerations
Torn toenail
Suspected urinary tract infection (frequency, urgency, blood in urine)
Acute onset diarrhea (otherwise eating/drinking)
Single limb lameness
Acute onset cough/sneeze (otherwise eating/drinking)
Ruptured, or infected, skin cyst/mass
Anal sac concerns
Conditions That Should Go Directly to Emergency & Critical Care
Hit by car
Collapse
Trouble Breathing
Seizures
Unable to urinate
Broken Bone
Foreign object, toxin ingestion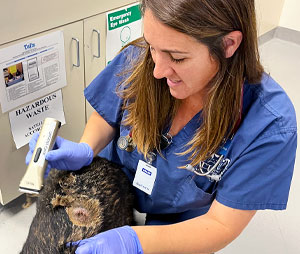 Referring Veterinarians
Tufts VETS offers many specialty services as an extension of the primary care veterinarian, and we recognize the important role we play in helping you provide optimum medical care for your clients and patients.
Emergency & Critical Care
Tufts VETS offers emergency and critical care services and surgeries around the clock for pets requiring immediate surgical intervention.